Saint-Gobain Surface Solutions plant in Suzhou, China, announces to achieve carbon neutrality in its electricity supply (scope 2), making a decisive step towards its way to net zero carbon, thanks to a number of de-carbonization projects launched since 2018. This achievement enables Saint-Gobain to lead the way of sustainable production in the coated abrasives industry in China and the Asia-Pacific Region.
On Monday, October 17, the Suzhou plant celebrated the good result with local authorities, customers and its employees.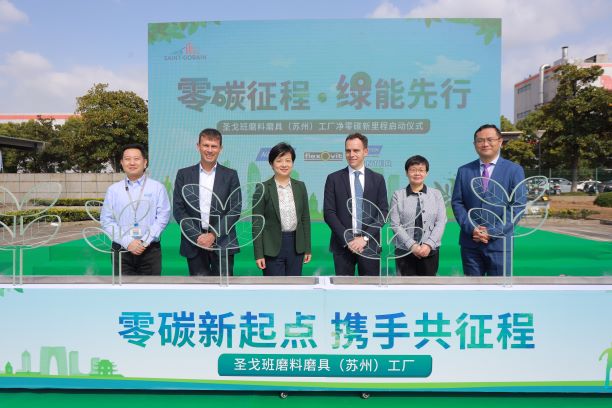 Among all the de-carbonization initiatives, its 3,220 square meters of solar farm is a highlight. Capable of producing 400 kWh of electricity annually, this solar farm is used extensively to meet the plant's energy needs, which have also been optimized to reduce the site's overall consumption, in an active approach towards energy sufficiency. By reducing its CO2 emissions by 235 tons, it enables to reach an important milestone in its sustainability roadmap: "zero carbon" on scope 2, which includes its indirect emissions related to energy purchases.
Besides its solar farm, the Suzhou plant has invested in a continuous emissions monitoring system to detect and instantly correct any abnormal increase in energy consumption. The plant analyzes its waste production to retain waste that can be used as raw material. It has optimized the drying process of its products and recycles part of its heat for storage at constant temperature. It has replaced its most energy-intensive heating systems. Finally, the site has switched its traffic lights to solar energy... All these good practices have enabled significant reductions of scope 1 emissions by 10% per year since 2018, and have been certified by the independent German organization TUV. New ones are already planned, including the switch to biogas for its "maker".
This achievement is a clear demonstration of Saint-Gobain's commitment to reach carbon neutrality by 2050. It further strengthens the Group's leading position as a worldwide leader in light and sustainable construction improving daily life through high-performance solutions and its leading role in helping to build a carbon neutral economy.
Loic Mahe, Vice President of Saint-Gobain Abrasives Asia-Pacific stated, "Advanced manufacturing processes, long-life products and high-performance grinding technology have always been the contribution to the industry of Norton®, the main brand of Saint-Gobain's Abrasives. Environmental sustainability and the availability of low- and zero-carbon products will become the new strategic consensus for long-term partnerships between Norton® and its customers and its suppliers. This is not only the advent of a new era for Saint-Gobain Abrasives and Norton®, but also a catalyst for accelerating trends across the multiple industries served by the Suzhou plant towards carbon neutrality."