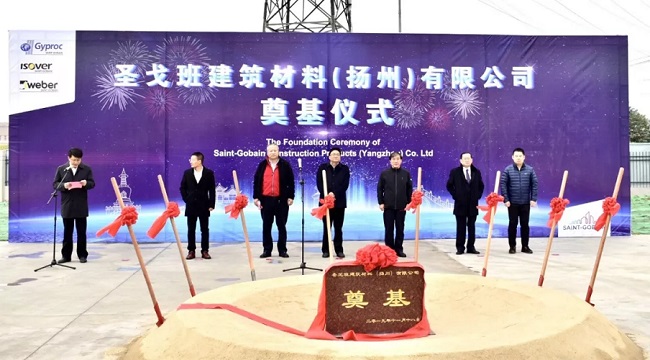 On November 18th, the foundation ceremony of Saint-Gobain's fourth plasters plant in China has been held by the Yangtze River. Saint-Gobain China main leaders, together with local authorities attended the foundation  ceremony.
Saint-Gobain Construction Products (Yangzhou) is a wholly foreign-owned company invested by Saint-Gobain Group in Yangzhou Economic and Technological Development Zone, Jiangsu Province, with the registered capital of 36 million euros. The construction of the new plant is expected to be completed by early 2021 with the annual production capacity of 600K tons of plasters products. The new production line will be the most modern plasters production plant in Asia at that time.
At the foundation ceremony, Paul SHENG indicated that: " China is a market with high potential and huge capacity. With its transformation to the green economy, our eco-innovative solutions could meet the highest demand for green materials. Saint-Gobain will continuously invest in China market to provide great living spaces to the customers and to supply high-performance and environment-friendly solutions to the market.
In April 2019, Saint-Gobain Construction Products (Changxing) started officially its production in Zhejiang Province. Only half a year later, the foundation of Saint-Gobain Yangzhou project is successfully laid. Yangzhou project, as an important part of Saint-Gobain China gypsum business, will continue to provide comfortable, safe, environmental-friendly and innovative indoor building system solutions for the China market.