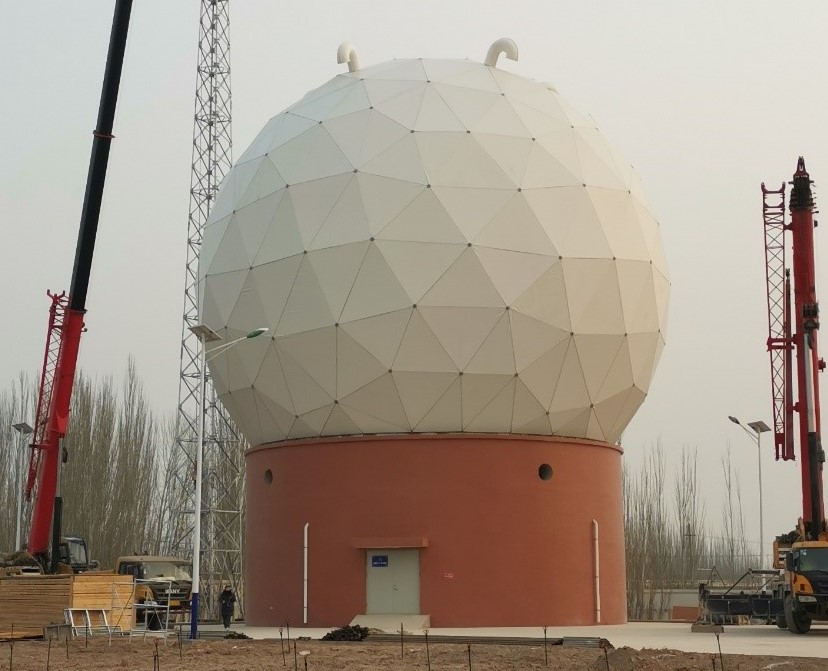 On Jan. 9, 2020, a metal grid radome was successfully installed, to which over 1,800m2 of Saint-Gobain SHEERGARD® M26 high performance radome special film material was applied, in a signal receiving station of the Institute of Remote Sensing and Digital Earth (RADI), Chinese Academy of Sciences (CAS) in Xinjiang, for satellite communications and remote sensing surveys. This is first radome project of Saint-Gobain in China.
Due to high operating frequency and wide frequency band of antennas in CAS, the traditional FRP (fiber reinforced plastic) radome cannot satisfy the high-precision transmission requirement. Saint-Gobain SHEERGARD® M26 is a wave-transmitting composite material particularly designed for frequency applications with low transmission loss. The film's permanent hydrophobic surface ensures the radome an outstanding wave permeability in rainy and snowy days. Its self-cleaning performance helps the receiving station resist sandstorms erosion over the years in northwest China, and it even provides all-weather protections at extreme temperatures from -73℃ to 148℃.
The completion of Saint-Gobain's new radome not only has massively reduced the damages to antenna equipment caused by severe weather and unfavorable surrounding environment, but also has largely improved the reliability and stability of the antenna system operation, which ensures better future support and protection to the satellite missions of CAS and the country.