Saint-Gobain has entered into a research and development partnership agreement with Yongfeng Group, a modern large-scale enterprise group mainly engaged in iron and steel melting, real estate, municipal services and trade logistics, to collaborate on innovation in the field of industrial by-product valorization and on research and development of construction materials and method in China.
On May 11, 2022, the partnership ceremony was held online, with the attendance of representatives from Chinese authorities, local partners and Saint-Gobain employees.
At the online ceremony, Ludovic Weber, CEO of Saint-Gobain in Asia-Pacific Region, and Feng Liu, Chairman of Yongfeng Group, signed on the partnership agreement.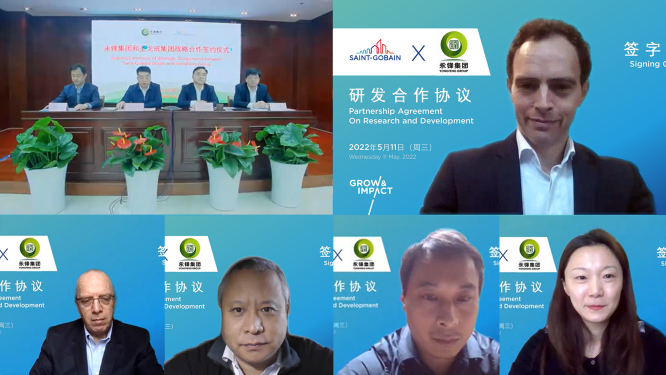 Saint-Gobain commitment towards zero net carbon meets Yongfeng willingness to valorize its industrial by-products and to act as precursor in decreasing the environmental footprint of the steel industry. Thanks to the combined know-how, this partnership will enable Saint-Gobain and Yongfeng make a new step in the field of sustainable construction and green buildings in China, which is a key aspect to reach carbon neutrality at country level. Both parties will also benefit from in-depth and multi-dimensional cooperation in market promotion of new building materials and construction methods, such as 3D printing.
The partnership is fully in line with Saint-Gobain's "Grow & Impact" strategic plan. It will strengthen Saint-Gobain's positioning as the worldwide leader in light and sustainable construction by leveraging the potential of the China circular economy eco-system thanks to a structured innovation program.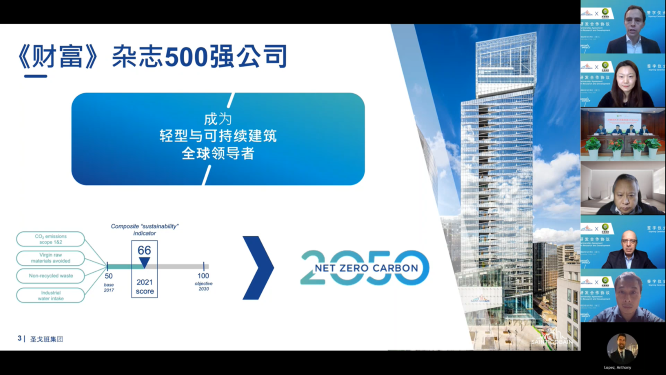 Saint-Gobain Research Shanghai is the representative of Saint-Gobain Group to establish this collaboration with Yongfeng. Present in China since 2005, Saint-Gobain Research Shanghai, one of the eight transversal Research Centers of the Saint-Gobain Group, supports Group's innovation for all the businesses of the Asia-Pacific region. Its researches are focusing on high performance solutions for automotive, aerospace, healthcare and renewable energies. It is also highly active in researching innovative and sustainable solutions and materials for the construction industry.